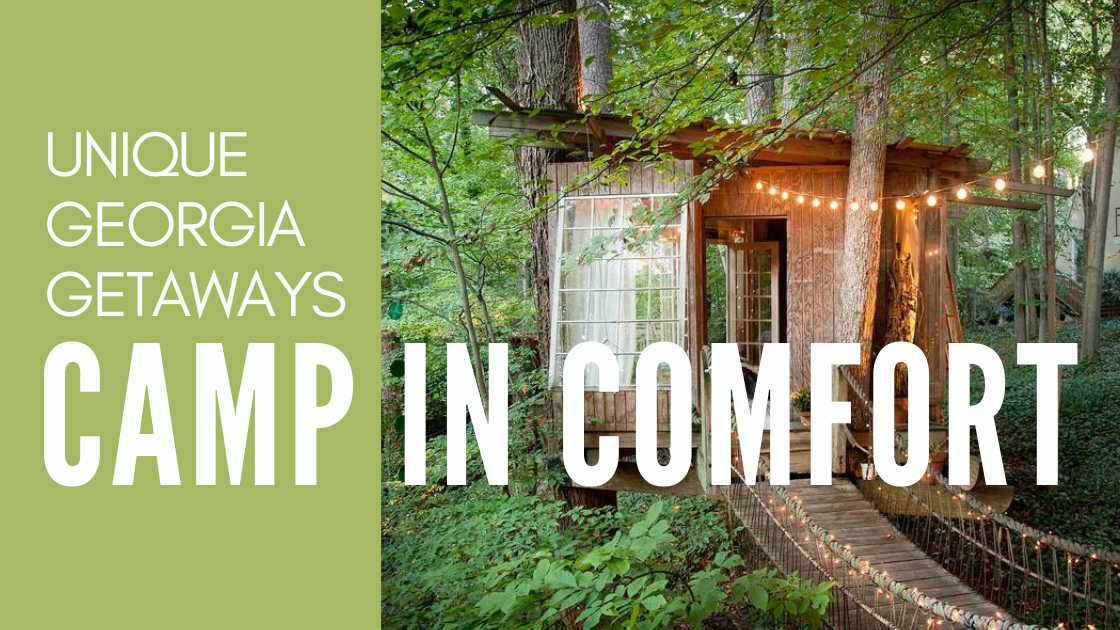 With the rise in popularity of 'glamping', more and more lodging destinations are popping up specifically tailored to those wanting to experience the beauty of the outdoors without the inconveniences of camping. Afterall, true camping requires experience and equipment – something that many living in a city like Atlanta do not have. If you find yourself in that category – you're in luck, Atlanta is home to many spots that are perfect for first-time campers. From in-town treehouses to family campgrounds, here's a list of the most comfortable 'camping' spots in our area.
1. Candlelight Forest: Located in Chickamauga, Georgia (just outside of Chattanooga), Candlelight Forest is a "Simpler Times Resort". Sitting on 250 acres with babbling brooks and sparkling mountain lakes, they have 4 charming accommodations: a large Bavarian-style lodge, a Southern Living Idea House and 2 treehouses.
2. Yurts: The yurts at Stone Mountain Park are the perfect destination for anyone who doesn't want to 'rough' it too much. Each yurt is completely furnished and includes luxuries like heating, air, and power – plus a back deck overlooking the lake.
3. Jellystone Park: Jellystone Park is a family-friendly campground that lets kids experience camping while parents can still enjoy a few comforts of home. Located about 50 miles west of Atlanta in Bremen, Georgia, Jellystone Park offers RV sites, cabins, and tent camping along with swimming, mini golf, train rides, and numerous other kid activities.
4. Tree House Village: Described as "a cozy rendition of the Swiss Family Robinson's rooms, but with all modern conveniences", the Historic Banning Mill's Treehouse Village is a must for anyone looking for comfort mixed with adventure. High in the sky, these furnished tree-house rooms have private bathrooms, jetted tubs, gas-fireplaces, but can only be reached by a sky-bridge.
5. Intown Treehouse: Keeping on the tree house theme, our list would not be complete without mentioning the infamous "Secluded Intown Treehouse". This Buckhead three-room treehouse is Airbnb's #1 property and is described as a one-of-a-kind retreat in the midst of Atlanta. But with world-wide popularity, this destination requires far in advance planning (often booking 6+ months in advance).
6.
Treasure Hunt Treehouse
: Located in Kennesaw, this unique three floor tree house holds a secret: many complex clues, puzzles and riddles are hidden throughout the structures and promise to surprise and delight the inner child of all who play the game.
7. Airstream and Geo Dome: Another popular Airbnb destination is a 7-acre farmland in Elijay, Georgia. Here, the owners offer two unique camping options – a vintage Airstream or a Geo Dome. Though each offers a different camping feel and experience, both are equally setup for comfort (including bathrooms)!

*Image above from Intown Treehouse