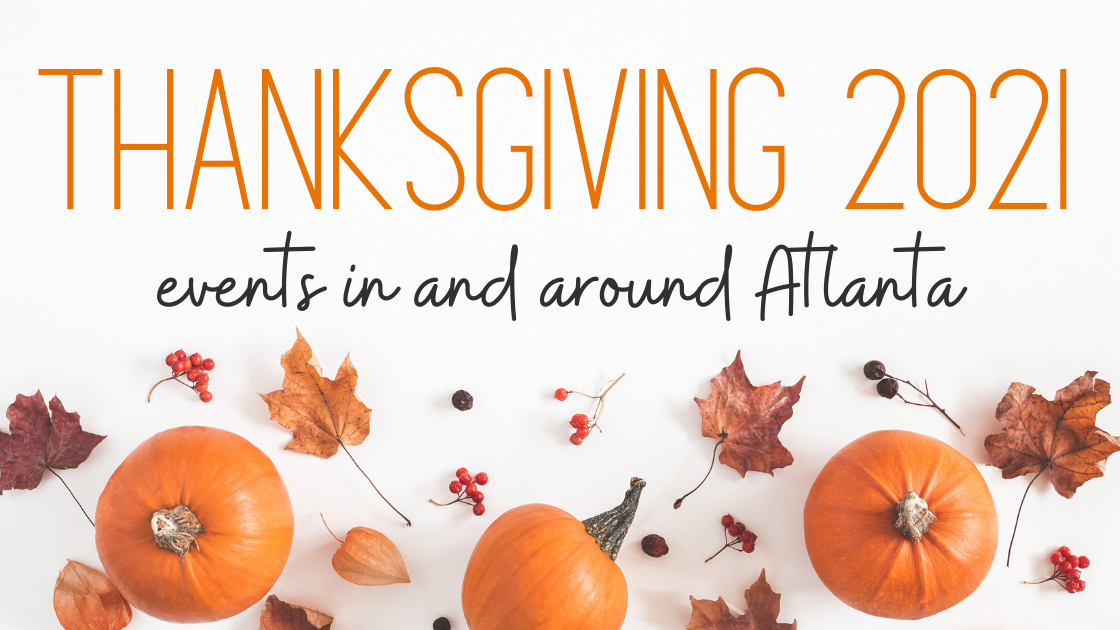 Will you be in town for the Thanksgiving holiday? If so, I've created a list of family friendly events taking place across the metro Atlanta area the week of Thanksgiving. Pay special attention to the dates, as many events take place a few days before or after Thanksgiving Day!
Chattahoochee Nature Center
: Chattahoochee Nature Center will be leading three special guided hikes in honor of Thanksgiving break. Taking place on Monday the 22nd, Tuesday the 23rd, and Wednesday the 25th from 11 am – 12 pm, the hikes will focus on nature's signs of a changing season.
The Lighting of Avalon
: Sunday, November 21st from 1 – 8 p.m. Kick off the holidays and get in the festive spirit at Avalon's annual season celebration. Avalon has a whole day of family-friendly activities planned – including ice skating, face painting, live music, and a magical tree lighting at 7 p.m. Also, on Sunday, November 28th, Avalon will be kicking off the first night of Chanukah with a traditional Menorah lighting from 5 pm – 6 pm.
Plane and Trains Model Railroad Display
: The Middle Georgia Model Railroad Club will kick off the holiday season with intricate, multi-scale train displays. Set-up at the Museum of Aviation in Warner Robins, this free event will run Monday, November 22nd through Saturday, November 27th (but will be closed on the 25th, Thanksgiving Day).
Dino Safari
: Starting November 19th, North Point Mall in Alpharetta will be the site for a Dino Safari. A walk-through expedition featuring over 30 moving dinosaurs, this is the perfect activity for dino-loving adults and kids!
Atlanta Hawks
: Baseball is over, but basketball is just beginning! The Hawks will be playing at home on Monday, November 22nd (vs Oklahoma City Thunder) and Saturday, November 27th (vs New York Knicks). Both games take place at 7:30 pm.
Atlanta Gladiators Hockey
: If basketball isn't your thing, how about hockey? The Atlanta Gladiators play 7 p.m. Thanksgiving Day at Gas South Arena on Sugarloaf Parkway.
UGA/GA Tech Game
: Saturday, November 27th at Bobby Dodd Stadium, time TBA. Always a favorite post-Thanksgiving tradition, the UGA/GA Tech rivalry game will take place in Atlanta on Saturday, November 27th at Bobby Dodd Stadium..