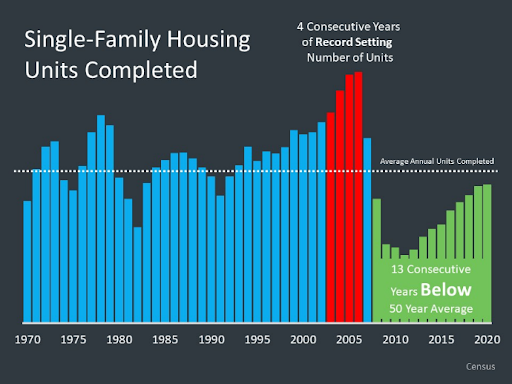 According to most real estate experts, this is not a housing bubble like 2005 that was caused by risky loans and lenient underwriting. Today, the natural homeowner cycle and current housing inventory is leading to this unique, strong, sellers' market! Even as interest rates increase (which is likely) and the home prices may not appreciate as much as they have in the last year, they will still appreciate at a lower rate according to Lawrence Yun with NAR.


The home ownership cycle begins with the starter home and progresses to a larger home as families expand and incomes grow. Many continue to migrate to even larger or more expensive homes. As the homeowners become "empty nesters" or start in retirement they decide that they don't need the expense, taxes bill and upkeep of a larger home may move onto a smaller home in the area, a retirement home in a resort area, a shared home with family members, an active adult community or, possibly, an assisted living community. Still others may retrofit their current home with safety devices and equipment to allow them to continue living in their current home. One of the main reasons for the current low inventory of homes for sales, is this group of homeowners who would normally move, but are reluctant! They know their home will sell quickly in this market shortage and they may not be able to replace it with another home.


Another reason for this low inventory market is the current housing inventory that has not kept up with demand. See Attached Graph! During the Great Recession starting in 2006, the residential building business was at a standstill as many builders, both large and small, went bankrupt. We have experienced a deficit in the number of newly built homes for 13 consecutive years. It is estimated that it will take 2 million new homes a year for the next decade to get caught up. (FHFA)


I have been in the Atlanta residential real estate business for 30 years. I have seen the good, the bad and the ugly. For those of you who want to stay in place and update and upgrade, give me or Leslie Tomasini a call. We have lists of contractors who can help and will share ideas for your home improvements. For those of you who would like to move onto the next phase of living, we can help guide you through the many options available in our area and help you capitalize on this great sellers' market.